Auction ended on February 20th, 2012 UTC
OIL ON BOARD RETABLO sight- 8 1/2" x 12 1/2"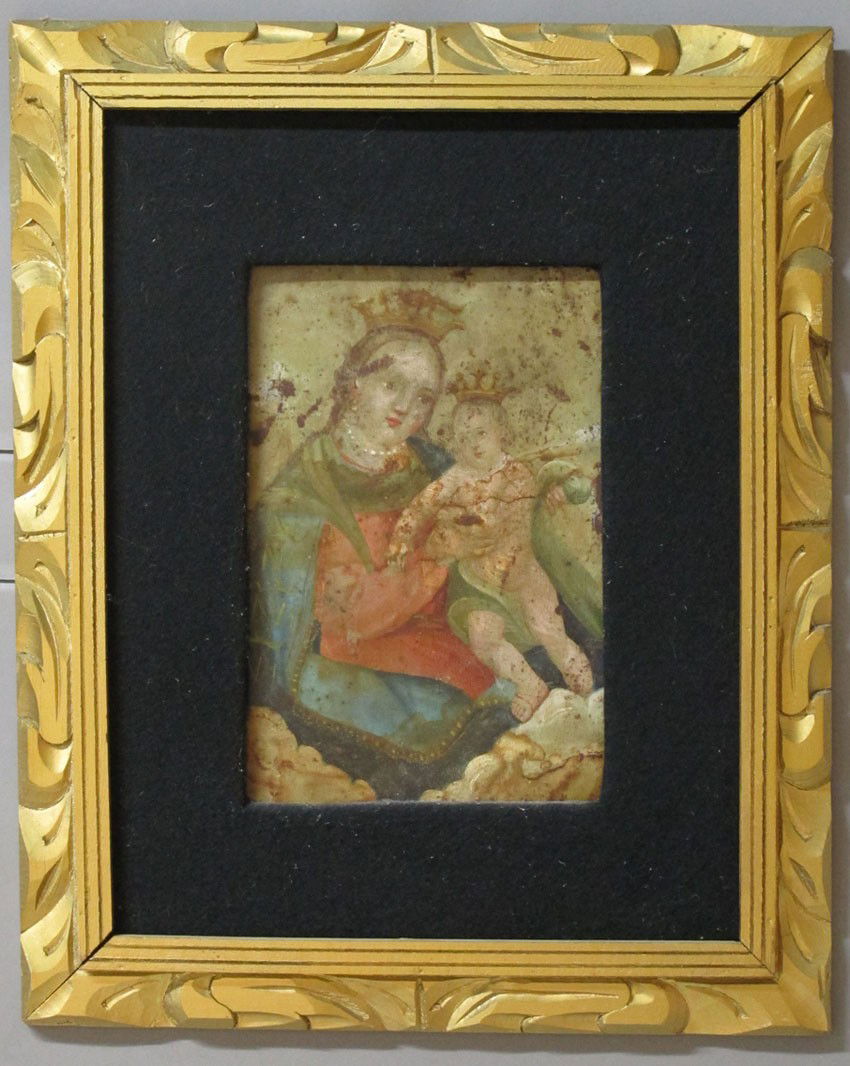 OIL ON BOARD RETABLO sight- 8 1/2" x 12 1/2"
Accepted payment methods

:
ALL BIDDERS ARE REQUIRED TO FILL OUT A SLAWINSKI AUCTION COMPANY BIDDERS APPROVAL FORM BEFORE YOUR LIVE AUCTIONEERS REGISTRATION IS CONSIDERED FOR APPROVAL. ALL BIDDERS MUST REGISTER BY FRIDAY, FEBRUARY 17TH AT 9AM (PSD). BIDDERS APPROVAL FORMS CAN BE LOCATED ON OUR WEBSITE. Though all description and commentary are believed to be correct, neither Auctioneer or Consignor makes any warranties or representations of any kind with respect to merchandise. Buyer shall not rely on the Auctioneer, employees, the catalog description, or advertisements in any part, and must rely only on his own inspection and opinions of all items. No employee is authorized to make any warranties, expressed or implied, on behalf of Slawinski Auction Company. ALL ITEMS SOLD AS IS, WHERE IS, NO GUARANTEES. The Auctioneer is acting as agent only and is not responsible for acts of its principals. If any dispute arises, the Auctioneer's word is final. This auction is being conducted in pursuant to section 2328 of the commercial code, 535 of the penal code and all provisions of the auction license act. In accordance to the California state law, all items are subject to a reserve unless otherwise stated. Auctioneer reserves the right to withdraw any lots from the sale or cancel a sale at the Auctioneer's discretion. The Auctioneer reserves the right to reject any bid or eject any person from the premises. Slawinski Auction Company and it's employees shall not be held liable for any damages or accidents that may result from handling, lifting, moving, loading and packing of purchases. PAYMENT WE DO NOT ACCEPT CREDIT CARDS OR PAYPAL. Payment (within the U.S.)must be submitted in the form of a personal or business check the day following the sale (We may require payment by bank wire transfer). Payment (Outside the U.S.)- must be submitted Bank Wire Transfer ONLY the day following the sale. Auctioneer may, at his discretion, hold purchases until check clears. Payment address is Slawinski Auction Company, P.O. Box 67059, Scotts Valley CA 95067. We will email an invoice within 24 hours of the end of sale. If you don't receive an invoice, please contact us at 831-335-9000. Failure to complete payment will result in no -issuance of a bidding number in the future and you will be reported to LIVE AUCTIONEERS. WE NOT ACCEPT CREDIT FOR PAYMENT UNLESS YOU ARE A ONSITE BUYER. A buyer's premium of 18% applies to all sales. The buyer's premium is added to the price knocked down by the Auctioneer. If you are the successful bidder on a lot at $100, your invoice will include a buyer's premium of $18 for a total of $118. State and local sales taxes (8.00%) are applied to all purchases unless a valid resale number is on file or buyer is taking delivery out of California through a common carrier. Buyers premium discounted in house. ABSENTEE / PHONE BIDS Absentee bids are accepted. Phone bids are accepted at the Auctioneers discretion. Slawinski Auction Company shall not be held responsible or liable for bids that are missed or otherwise not executed. Bidders not present are required to register for phone bidding no later than 6pm the day prior to the auction, and absentee bidders must be registered no later than 9am on auction day. Phone bidders will be called from the auction house. No incoming calls are taken auction day. As each item is sold the phone bidder's agent will announce the bid price. Failure to immediately object constitutes acknowledgement of the purchase at the announced price. Phone bidders should confirm the hammer price after any successful bid. STORAGE Removal shall be at the expense, liability and risk of the purchaser. All arrangements for removal must be at convenience of Slawinski Auction Company. We can suggest names and phone numbers of appropriate firms to assist with delivery. If arrangements can't be made within 5 days of sale, items may be removed and stored at the expense and risk of the buyer. After 5 days a storage fee of $5 per day thereafter shall be charged. Auctioneer shall apply any deposit to loss, damages, and expense incurred in the resale of goods not paid for in full or removed in the time specified and shall retain any balance as liquidated damages. After 90 days items shall be considered abandoned. All items sold AS IS, WHERE IS. ALL SALES FINAL. No Guarantee of Authenticity for Jade: Slawinski Auction Company CANNOT GUARANTEE the authenticity of the COLOR or AGE of any jade. Jade can be bleached and dyed among other techniques. All Jade will be sold as is, without any warranties. All sales are final in Jade purchases, NO RETURNS will be accepted. Judgment of such qualities is at the sole discretion of the buyer. No Guarantee of Authenticity for Chinese Paintings: Slawinski Auction Company CANNOT GUARANTEE any of the Lot Number descriptions concerning Chinese Paintings including authentication, originator and the date of execution. However, a return may be permitted if within (10) days after the receiving the purchased item (as recorded by their tracking number from the shipping company) the purchaser can provide sufficient evidence to Slawinski Auction Company that the item is a forgery. If Slawinski Auction company is satisfied with the presented evidence and the item remains in the same condition as when it was sold, the purchaser will have (7) days after notifying Slawinski Auction Company of the forgery to return the item for a refund of the purchase price. Endangered Species and CITES Permits: Slawinski Auction Company WILL NOT ACCEPT LIABILITY of Auction Lots that may include any amount of material from endangered species such as Ivory, Rhinoceros Horn, Tortoise Shell, Coral, Endangered Woods and Whalebone. It is the SOLE RESPONSIBILITY OF THE ORIGINAL PURCHASER to perform their Due Diligence and acknowledge any laws and regulations that apply to importation and exportation laws. CITES permits are required by some countries and may constitute delay, surrender or loss of items in importation and exportation of materials from endangered species. All bidders acknowledge that Slawinski Auction Company accepts NO RESPONSIBILTY in the event that the purchaser is unable to receive purchased lots due to laws and restrictions pertaining to the transport of lots consisting materials of endangered species. The purchaser acknowledges that the purchaser is responsible for payment to Slawinski Auction Company for the purchased items whether or not the buyer can receive the item and is willing to accept all risks involved.
Bid Anywhere, Anytime. Download the LiveAuctioneers App.
Available on the App Store
Android App on Google Play