Auction ended on January 16th, 2012 UTC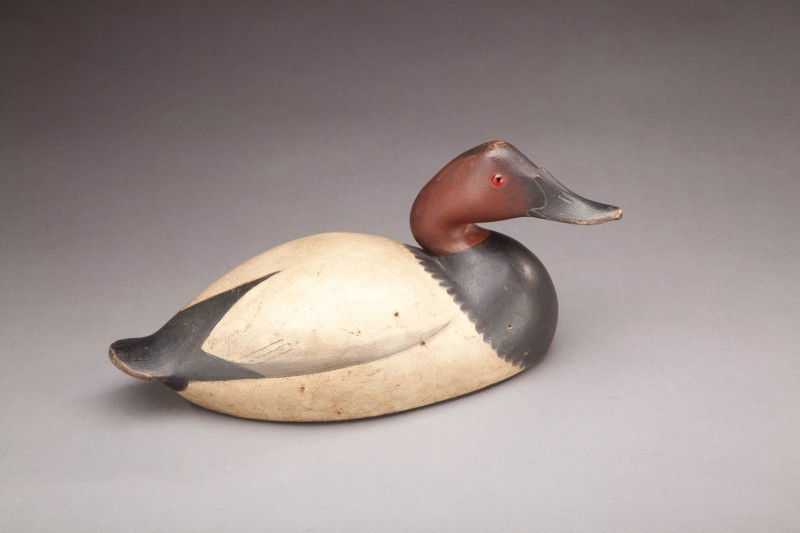 Canvasback Drake

Cameron McIntyre

New Church, VA, c. 1995

An alert, turned head decoy exhibiting carved bill detail and swirled paint that shows Mason Factory influence. Signed with the maker's "CTM" incised initials on the bottom.

Original condition.
Accepted payment methods

:
***PLEASE NOTE: ALL BIDDERS REGISTERING TO BID THROUGH LIVEAUCTIONEERS.COM MUST PROVIDE COPLEY FINE ART AUCTIONS WITH A VALID CREDIT CARD AND PICTURE ID. BUYERS WILL NOT BE APPROVED TO BID WITHOUT THESES TWO ITEMS. ANY INVOICES NOT PAID WITHIN 30 DAYS WILL BE CHARGED TO THE CREDIT CARD PROVIDED.*** 1 Your bidding on items indicates your acceptance of the following Terms and Conditions of Sale by Copley Fine Art Auctions, LLC. These terms are subject to amendment before or during the sale. Copley Fine Art Auctions, LLC operates as an agent of the seller only, and is not responsible in any way in the event the seller or buyer fails to fulfill their respective agreements. In all instances the auctioneer's interpretation of these conditions is final and binding on all bidders. 2 All bids are per lot as numbered in the catalog unless otherwise announced by the auctioneer. The sales price shall consist of the final bid price plus the buyer's premium, plus any applicable sales tax. A buyer's premium of 15% (18% for online bidding) of the final bid price up to and including $1,000,000, plus 10% of the final bid price over $1,000,000, will be applied to each lot sold, to be paid by the buyer as part of the purchase price. 3 All goods are sold "as is" and all sales are final with no exchanges or refunds. Copley Fine Art Auctions, LLC and its consignors make no representations or warranties as to merchantability, fitness for a particular purpose, the correctness of the catalog or other description of physical condition, quality, size, medium, importance, rarity, provenance or historical relevance of any property, and no statement made at the sale, or in the bill of sale, or invoice, or elsewhere shall be deemed such a warranty or representation or an assumption of liability. The purchaser assumes complete responsibility for items at the fall of the hammer. 4 Condition reports are not included in this catalog. It is the responsibility of prospective bidders to examine lots and decide their level of interest. Neither the auctioneer, Copley Fine Art Auctions, LLC, nor the consignor, is responsible for the accuracy of any printed or verbal descriptions. Copley Fine Art Auctions, LLC strongly encourages clients to attend our previews and auctions so as to best determine condition of lots. If you require absolute certainty in all areas of authenticity, and the results of your evaluation leave uncertainty in your mind, we recommend you not bid on the item in question. Due to the high volume of condition requests, Copley Fine Art Auctions, LLC reserves the right to reject requests at its sole discretion. All weights and measurements are approximate. 5 If you are bidding as an agent for another individual or company, and you execute a bid on behalf of someone else under your bidder number, then you are responsible for the settlement of that account. 6 Absentee and telephone bids will be executed when possible as a convenience to customers: the auction house will not be held responsible for any errors or failures to accurately execute bids. If bids for identical amounts are submitted for the same lot and are the highest bids of the auction, the property will be sold to the person whose written bid was received and accepted first. All absentee and telephone bids must be received no later than 5 pm EST, Saturday, January 14, 2012. 7 Unless indicated by a box ( ), all lots in this sale are offered subject to a reserve. This is a confidential figure set by the consignor and the auction house below which a lot will not be sold. The reserve will not exceed the low estimate, and the auction house will execute the reserve bids by bidding for the consignor. If any lots in the catalog are offered without a reserve, such lots will be designated by a ( ). Estimates are subject to change at any time prior to the offering of each lot. 8 Lots with a (_) symbol indicate that Stephen O'Brien Fine Arts, LLC and/or Copley Fine Art Auctions, LLC owns the lot in whole or in part or has an economic interest in the lot equivalent to an ownership interest. 9 The auctioneer reserves the right to reject any bid that, in his opinion, is not commensurate with the value of the lot. The auctioneer has the sole right to reoffer a lot and/or settle disputed bids. The record of sale kept by the auction house will be taken as final in the event of dispute. Additionally, items may be withdrawn at any time prior to the offering of each lot. 10 Some property sold at auction can be subject to laws governing export from the United States, such as items that include material from some endangered species. Import restrictions from foreign countries are subject to these same governing laws. Granting of licensing for import or export of goods from local authorities is the sole responsibility of the buyer. Denial or delay of licensing will not constitute delay or cancellation in payment for the total purchase price of these lots. 11 Bidding increments will normally follow the pattern below, but may vary at the sole discretion of the auctioneer: Estimate Increment To 999.99 $50 1,000 - 2,999.99 $100 3,000 - 4,999.99 $250 5,000 - 9,999.99 $500 10,000 - 29,999.99 $1,000 30,000 - 49,999.99 $2,500 50,000 - 99,999.99 $5,000 Over 100,000 $10,000 12 Successful bidders are to pay for their purchases during or immediately after the sale or upon receipt of an invoice, unless other arrangements have been authorized in writing by the auction house. If purchases were made through liveauctioneers.com, and not paid for within 30 days, you authorize Copley Fine Art Auctions, LLC to charge the credit card provided upon registration. Payment may be made by cash or good check payable to Copley Fine Art Auctions, LLC. The auction house reserves the right to hold property until checks clear. A monthly service charge of 1.5% will be added to unpaid balances beginning 30 days after the sale date. A $50.00 fee will be added for returned checks. If a check fails to clear after the second deposit, the purchaser will be held responsible for any and all fees incurred until we have collected good funds. Purchases picked up at the auction will be subject to the New York State and local tax of 8.875% unless purchaser provides a valid New York State resale certificate or copy thereof while registering. Purchases delivered to New York after the auction will be subject to the applicable New York state and local taxes and purchases picked up or delivered to Massachusetts after the sale will be subject to the 6.25% Massachusetts Sales Tax unless exempted by applicable law. 13 If the purchaser breaches any of its obligations under these Conditions of Sale,including its obligation to pay in full the purchase price of all items for which it was the highest successful bidder, Copley Fine Art Auctions, LLC may exercise all of its rights and remedies under the law including , without limitation, (a)canceling the sale, and applying any payments made by the purchaser to the damages caused by the purchaser's breach, and/or (b) offering at public auction, without reserve, any lot or item for which the purchaser has failed to pay in full the purchase price, holding the purchaser liable for any deficiency plus all costs of sale. 14 Buyers wishing to pick items at the sale must do so by 8pm EST, Monday, January 16th, 2012. Buyers wishing to pick up or ship items after the sale may do so only by appointment after January 24, 2012. We kindly ask that all items be removed from our warehouse within 30 days of auction end to avoid a $5 daily storage fee. 15 Shipping is the responsibility of the buyer. Once your payment has cleared and we have received your Authorized Shipping form,items may be released for shipment. Copley Fine Art Auctions, LLC shall have no liability for any loss or damage to such items. Buyers should allow up to four weeks for shipment. 16 Copley Fine Art Auctions, LLC is the owner of the images of each lot offered for sale, and may use such images at any time at its sole discretion for advertising, publicity, and for archival purposes. 17 In no event will the liability of Copley Fine Art Auctions, LLC to any purchaser with respect to any item exceed the purchase price actually paid by such purchaser for such item. 18 Any legal disputes arising from this auction shall be governed by and constructed and enforced in accordance with the laws of the State of New York. The buyer and any agent for the buyer shall be deemed to have consented to the jurisdiction of the state courts of, and the federal courts sitting in, the State of New York.
Bid Anywhere, Anytime. Download the LiveAuctioneers App.
Available on the App Store
Android App on Google Play