Auction ended on December 2nd, 2011 UTC
49: Archive of Francis L. Hagadorn, Inspector General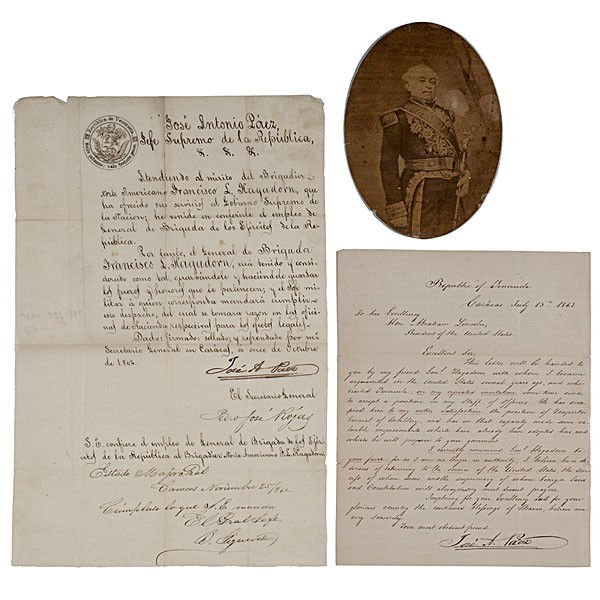 Archive of Francis L. Hagadorn, Inspector General to the Venezuelan Army & Civil War Major, New York 79th Infantry, Including Letter to Lincoln from Venezuelan President Jose Paez 

Archive of personal papers, mementos and newspaper clippings of Francis L. Hagadorn, primarily concerning his career as Brigadier General and Inspector General of Artillery of the Venezuelan Army. Documents include his commission, signed by President Jose Antonio Paez; confirmation of his position and rank by President Juan Crisostomo Falcon after the fall of Paez; and manuscript passport signed by future interim President Manuel Ezequiel Bruzual as Secretary of War for the Falcon government, among other official documents of his service under the Paez regime.

Francis L. Hagadorn was the son of a New York newspaper editor, and following in his father's footsteps, opened the first newspaper on Staten Island in 1837. Active in the New York state militia before the Civil War as colonel of the 73rd regiment, he rose to the rank of Quartermaster General of the state. During the Civil War he was made Major of the 79th New York Infantry, resigning in May of 1862 to accept his friend Jose Paez's offer of the position of Inspector General of Artillery in the Venezuelan Army. Upon the fall of the Paez regime, he returned to the US despite the confirmation of his position and rank by the new government. In addition to his inventions in the field of artillery, Hagadorn also patented a pinking machine used in clothes making. A CDV photo of the machine endorsed on verso "patented June 8, 1869" is included.

The centerpiece of the collection is the signed autograph letter of commendation (in English) to Abraham Lincoln, written by Paez after his fall from power, extolling Hagadorn's service and improvements in the field of artillery. (Hagadorn would spend the next thirty years trying to convince the US Army to adopt his improvements in the safe transport and handling of artillery shells that he implemented in Venezuela.) This letter is accompanied by a letter from the US Minister to Venezuela Erastus Culver, who also mentions Hagadorn's accomplishments.

Jose Antonio Paez, compatriot of Bolivar, hero of Venezuelan independence and first President after Venezuela, separated from Bolivar's Gran Colombia, and served as Venezuela's President three separate times (1830-1835, 1839-1849, and 1861-1863.) He had been exiled in 1850 after Jose Monagas declared a dictatorship. During his exile, he lived in New York City, where he became friends with Hagadorn. Returning to a Venezuela torn by civil war in 1858, he established a dictatorship in 1861 as head of the Conservatives to restore order. This would be his third and last term as President, being overthrown in 1863 by rebels led by Juan Falcon.

Paez's successor, Juan Falcon asked Hagadorn to pursue support for an American exploration of the Orinoco river basin, with an eye toward developing the area. Hagadorn championed this project with every US Administration from Lincoln to Grover Cleveland. Included in the archive are letters sent to President Cleveland regarding this project, and a reply on Executive Mansion stationery from Cleveland's private secretary expressing interest.

General Juan Crisostomo Falcon, as leader of the Federalist forces in civil war of 1859-1863, assumed power after defeating the Conservatives led by Paez, and was elected to a second term, governing from 1863-1868. His government was toppled by conservative forces in the "Blue Revolution" after mismanagement by the Liberals.

General Manuel Ezequiel Bruzual, hero of the Federalist revolution, was made War minister in the Falcon government. After Falcon was overthrown in the Blue Revolution, Bruzual headed an interim government before being ousted.

Also included are 3 TLsS of General Nelson A. Miles, Civil War Medal of Honor winner at Chancellorsville and last Commanding General of the US Army before the implementation of the Chief of Staff system, regarding US Army testing of Hagadorn's patented artillery wagon system after a series of fatal explosions from using the old style wagons. Signatures of Miles include those as commander of the Department of Missouri (overall commander of Army forces involved in the Indian Wars) as well as Commanding General of the US Army.

Printed materials include: issues of El Independiente (Caracas, Venezuela newspaper) during the Paez regime; printed version of Paez's address to the people (manuscript version also included); clippings of Hagadorn's Venezuelan service in Spanish and English; and a large amount of Chicago World's Fair souvenir newspaper items; and a group of twenty photos, mainly of Persia, but also including Ming tombs, Timur's tomb in Samarkand and Siberia, which are identified on verso, some in pencil, some with the label Made by Records of the Past Exploration Society.