Auction ended on December 2nd, 2011 UTC
41: Civil War Archive of Capt. Wm R. Prentice, 161st NY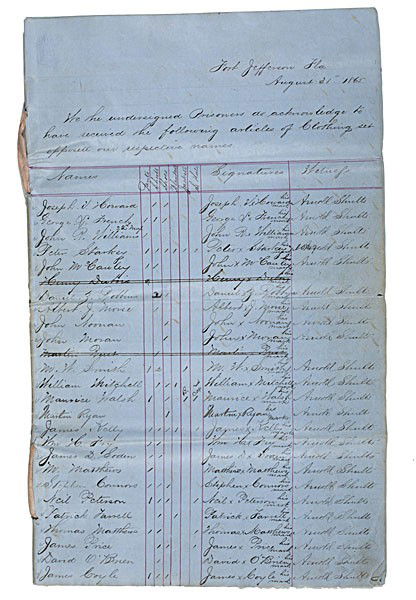 Civil War Archive of Capt. William R. Prentice, 161st New York Infantry, Including Lincoln Assassins Content 

51 items.

After the assassination of Abraham Lincoln and the discovery of the massive conspiracy, Mary Surratt, George Atzerodt, David Herrold, and Lewis Powell were tried and hanged on July 7, 1865. Four more conspirators were found guilty and sentenced to terms at the military prison in Fort Jefferson, Fla. Situated in the desolate Dry Tortugas, Fort Jefferson was a place for hard time and had been used to house federal deserters and mutineers during the Civil War. The four conspirators, Samuel Arnold, Michael O'Laughlin, Edward Spangler, and most famously, Dr. Samuel Mudd, joined the federal riff raff there in July 1865, sentenced for life.

With the war ended and the demobilization of troops in full swing in September 1865, command at Fort Jefferson was transferred from the 161st New York Infantry to the 82nd US Colored Infantry. Incensed, despondent, opportunistic, afraid of how he would be treated by "Colored" soldiers. Mudd attempted to stow away aboard the transport Thomas A. Scott and escape. He was quickly discovered and he, Arnold, O'Laughlen, Spangler, and one other man were confined for three months in a "dungeon," let out six days a week in chains for labor in the yard. Although Arnold and O'Laughlen had both attempted to drop out of the conspiracy, they were swept up after the assassination for their complicity. All four were sentenced to life in prison, O'Laughlen died of yellow fever in 1867, during which epidemic Mudd filled in for the prison doctor who succumbed, and Andrew Johnson pardoned Mudd, Arnold, and Spangler in 1869.

Almost half of this collection of over fifty items assembled by Capt. William Prentice of the 161st New York Infantry, relates to the period that he was stationed at Fort Jefferson, overseeing the military prison that housed the Lincoln conspirators. Among these documents are the comparatively mundane records of accounts necessary to keep a military outfit running efficiently, including 21 returns, receipts, or invoices for supplies or stores. Most of these are printed forms and relatively routine, but one (Special orders 8) is an unusual receipt from a lieutenant for turning in the regimental colors; and one return that lists 20 men from Co. F, 161th NY, with an indication that five would transfer into another company and one would remain south after mustering out. One receipt was signed by Henry A. Morris, Capt. 82nd US Colored Troops and Provost Marshall for stores issued to that regiment (clothing, straw hats, iron pots, account books). Two document on transfer of responsibility from the 161st NY to the 82nd USCT.

Not all is routine, however. Amid the apparently common run of returns and receipts is a remarkable document signed (with an x) by each prisoner held at Fort Jefferson on August 31, 1865, for the issue of clothing and blankets. In many cases, the prisoners, presumably deserters or mutineers, are listed with their regiment indicated (e.g. the 69th, 122nd, 140th, and 157th NY Infantry, 26 NY Battery; 1st US Infantry, and several from 6th US Heavy Artillery). A few are noted as Colored. Within this list, however, are the names of the four men convicted of conspiring to kill Abraham Lincoln, Edward Spangler, Michael O'Laughlin, Samuel Mudd, and Samuel Arnold -- Spangler, Arnold, and O'Laughlin are listed in one document together, suggesting all together at the time. The conspirators each received a pair of pants, shoes, a blanket, and two shirts. A second return dated Sept. 1865 lists Arnold, but not the other conspirators for reasons that remain unclear.

Adding to this exceptionally rare record is a photograph of a spectacular and important letter from conspirator Samuel B. Arnold (signed Samuel B. A.) addressed to Prentice, Nov. 16, 1861. Having been confined in the dungeon, Arnold asked Prentice for a letter testifying to his good behavior while under Prentice's keep, presumably to show to the new command. It is impossible to give you any items of the place at present writing, he wrote, as I know nothing, only permitted to look upon the bare wall and chilly floor of our prison cell, the slow and measured tread of the sentry as he walks his beat both day and night before our quarters, now intercourse with outside -- all, all is monotonous. This change was inaugurated upon the 82nd U.S. C. Troops taken command and like orders been handed down to present command, the 5th U.S. H. Artillery, which of course, must be adhered to on their part. I have been thus far unable to ascertain from whence the order emanated, so many versions having been tendered. Its origin tho' seems to come from Mudd's attempted escape. If such be the case, I can't see the justice of punishing me for his offence... I feel that the present Regt, will investigate the matter and treat us as we all by our deportment are deserving of, for if good conduct brings present suffering, bad certainly would produce death. I suffered my present imprisonment through the act of others, for I had not even knowledge though, and in like manner am again under the strict surveillance through the offence of another... Accept the best wishes from the heart of one, tho' branded with shame, that contains within its inmost core, feelings of honor, puriety, and truth, equal to any beating heart...

The documents that date from Prentice's military career prior to Fort Jefferson include 18 returns, receipts, or invoices for supplies and stores, including a return of supplies lost in an accident involving the steamer John H. Dickey; an unusual letter trying to account for stores lost relative to men who had died or transferred from the regiment while detached; two documents relating to Prentice's mustering in, and a special order relieving Prentice of duty and ordering him to turn over all papers Books and Blanks belonging to his Office to Capt. Jos.. H. Meredith, 82nd U.S.C.I. who will assume the duties of Assist Inspector Genl. There are three fine items relating to Prentice's commissioning, including his mustering in roll after promotion from Lieutenant to Captain, Sept. 1863; Special Order 44 appointing Prentice Provost Marshall at Fort Jefferson, July 31, 1865; and his Captain's commission on vellum, signed by Gov. Horatio Seymour, 1863.

Demonstrating that bureaucracies never die, nor do they entirely reason, one of the returns is of particular note -- a statement of equipment lost at the Battle of Sabine Cross Roads, April 30, 1864. Prentice explained: while the Regt was in Bivouac at Pleasant Hill, La., the enemy began skirmishing along our while line, preparatory to the general engagement, which came on later in the day. I was ordered... to take my company and pull down a Barricade in our front which might be of advantage to the enemy. I then to deploy them as skirmishers in a piece of timber on our Right. By his order all our Baggage was left in camp. While we were thus employed, the engagement became general, the Regt was sent to the Front, and by order of Brig. Gen. Emory... our Baggage was placed upon a wagon & during the Retreat of the following night was lost...

Rare enough in itself as a record of activity in a federal prison for deserters, the Prentice collection contains some of the rarest of all Civil War items: materials relating directly to the Lincoln assassination and to the conspirators who fomented it. A once in a lifetime opportunity.
Condition

:

Good condition throughout with expected wear and signs of age.